About ColorByFeliks 3-piece Goat Hair Blending Brush Set M1, M2, M3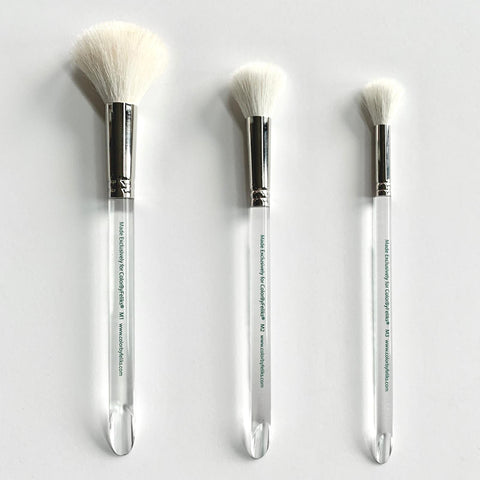 BACK IN STOCK!
ColorByFeliks Complete Brush Bundle includes
3 pieces of Blending Brushes

:


-M1 Blending Brush: great for big paintings and large coverage for blending backgrounds
-M2 Blending Brush: medium blending brush, works great on smaller paintings or subjects such as clouds and fog
-M3 Blending Brush: works best for small areas of blending where the bigger brushes can't reach 

Get your Free Paint Mixing e-Book when you purchase this item! Your ebook will be automatically sent directly to your email after the item has been shipped. (If you cannot find the ebook download link in your Inbox, please check your spam folder)

This bundle of brushes was made exclusively for Feliks after years of experimenting and careful testing of each brush and is 100% SATISFACTION GUARANTEED! 

• Brushes will last through several years of frequent use when cared for properly.
• Blending brushes are hand-made with soft goat hairs (cruelty-free, no animals are harmed in the process)

Care instructions: After each use, wash with soap and luke-warm water. Avoid allowing the brush to sit with dried paint.   

Disclaimers:

**Please Note: it is normal for some shedding to occur on the first few uses, once the brush has been broken in it will get fluffier and minimal shedding will occur

**Additional Import fees/other Custom fees may apply and vary depending on which country you are from**

Additional Import fees/other Custom fees may apply and vary depending on which country you are from
Easy Purchase
Although I have not had a chance to use the new brushes, they look great. My experience purchasing them was effortless and they arrived fairly quickly. I have been very busy working and then on vacation for 3 weeks and have not had a moment to paint or too tired in evenings after work to pick up a brush. I hope to use them in the very near future (fingers crossed) as I now have all the brushed I need to get back into painting. Thank you.
Excellent Blending Brush
These brushes are soft and lightweight. It is the perfect blending brush for multiple applications. I liked the first set so much I bought another. Having more then one is a huge help if you have wet and dry applications.
Great for blending
The first few uses you will get loose hairs, but the blending is awesome! I keep a pair of tweezers with my brushes, so it is easy to pull off a couple hairs. These brushes also clean so well!!! They do exactly what they advertise.
Love them
Really love them. So satisfying when blending and the hand feel is so nice