About Feliks K. Fine Artist Acrylic Paints 5 Set - 60 mL tubes, 2 oz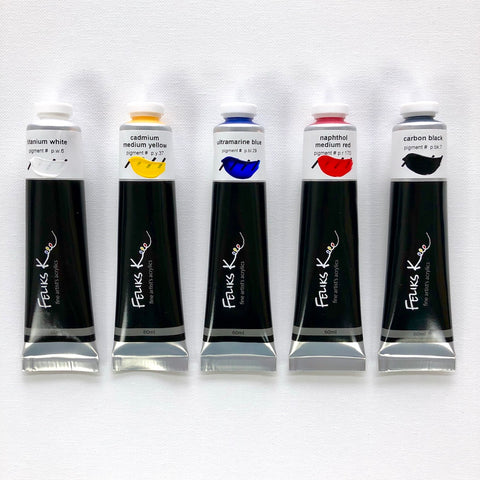 "Feliks K" brand Fine Artist's Acrylics are available in 60ml primary colors Ultramarine Blue, Cadmium Yellow Medium, Naphthol Red Medium, as well as Carbon Black and Titanium White.

-May be purchased individually or in sets
- Made with colorfast pigments in 100% acrylic resin
- Specially formulated for maximum pigment loading possible for each color, contain no fillers or extenders
- Generous drying time will be appreciated by professional artists and beginners alike, great for color blending
- Can be thinned with water or extended with acrylic mediums. Keep brushes wet while using. Clean up with soap and hot water after each use
**Additional Import fees/other Custom fees may apply and vary depending on which country you are from** 

Additional Import fees/other Custom fees may apply and vary depending on which country you are from
Best products
I've purchased the blending brush as well as the other brushes, the pallet paper and am currently waiting on my paint to be shipped. I'm loving all the products so far. Best on the market. I never painted anything until I watched a YouTube tutorial by Feliks. Such a great teacher. Love how step by step he is. I've learned so much. Your work is amazing and beautiful. Thank you for giving me a new getaway inside the comfort of my own home.
You cannot do better
I have used Colorbyfeliks paints for more than two years. After purchasing samples of other brands and evaluating them against Colorbyfeliks, I found you cannot do better than these heavy-bodied acrylics.
Color My World
Once while waiting for Feliks' tube of white paint to show up in my studio, I had to resort to another brand. The difference in application and coverage was alarmingly obvious. Feliks' white covers purely, simply, and without having to use so much paint. I love these paints and appreciate all you're doing for those of us coloring our world beautiful.
Excellent Acrylic Paint
Great basic base colors for mixing your own hues. The paint is smooth and creamy and mixes very well. It dries fairly quickly but still allowed for blending on canvass. This acrylic color is definitely worth the reasonable cost for the quality received.
Awesome
I received the paints and all the brushes. I am loving them as much as I am the academy. Awesome work Feliks