About Feliks' Favorite Rotating Easel (BACKORDER)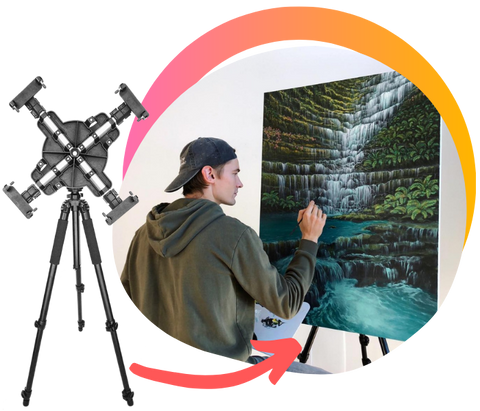 Currently on BACKORDER. Estimated ship date - before August 31, 2023
Order Your Rotating Easel Now!

Paint all four sides of your canvas
Tilt, spin or rotate your work to follow the light, stay comfortable and free your creativity!
Work with your artboard or canvas in a true horizontal position (and easily turn it while working)
Paint multiple canvases at one time

Suits a variety of canvas shapes and sizes
Paint comfortably sitting or standing

Extremely durable - will last for years of painting
27 x 12 x 8", 14lbs

Additional Import fees/other Custom fees may apply and vary depending on which country you are from
This is the easel of my dreams!
I have often been frustrated with regular easels. When I had a painting that I needed to tilt, I had to prop it or use one hand to hold it so I could paint at a comfortable angle. This rotating easel has changed the way I paint! I can rotate my paintings at any angle while keeping both hands free. The rotating easel is solid, well made, and easy to use. I am thrilled with mine!!
Thank you for taking the time to leave your feedback on the rotating easel Vikki! We appreciate it and are glad to hear you're loving it as much as I do :) -Feliks K.
Very nice
I like it a lot! Perfect for me!
Excellent Easel
I love this easel its such a joy to use and to be able to rotate it as needed
Able to hold 10 x 10 inch canvas
I found a way for the easel to hold a 10 x 10 inch canvas or larger. I work in the smaller sized canvases and was pleased that the easel with accommodate the smaller size.
The easel is very well built. It was shipped to me immediately and came sooner than expected. I would buy it again (but don't need too).
The easel is great! I gives me the rotation I need to reach the sides. Also, I am able to set the easel at the correct angle because of pain in my shoulder and hands.