About ColorByFeliks Acrylic Paint Set, 24 Large Tubes -37 mL, 1.25 oz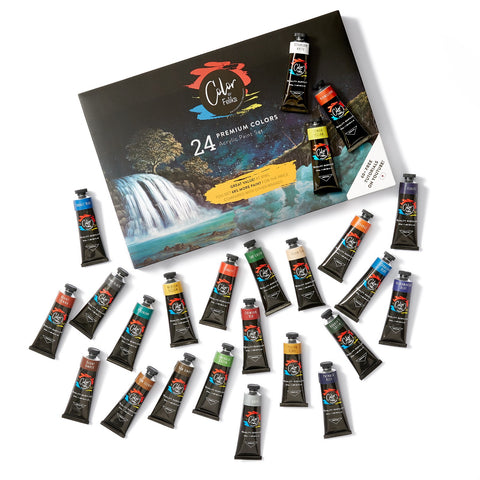 (37 mL, 1.25 oz) Professional Acrylic Art Supplies for Painting on Canvas

24 Thick, Vibrant Pigments: Your high quality acrylic paints contain smooth, rich pigmented color to help you create paintings that you are proud of. From Titanium White to Ultramarine Blue and all the primary colors in between. Suitable for multi-surface artwork including: fabric, wood, canvas
68% MORE PAINT with our 37ml (1.25 oz) tubes as compared with most paint sets in the art supplies category
Certified safe & non-toxic. Each of our 24 colors is individually tested and certified non-toxic conforming to ASTM D-4236 standards.
100% Satisfaction Guarantee. We want you to love and recommend your ColorByFeliks paints. That is why they are backed by our manufacturer 90-day money back guarantee. If you're not satisfied with your product, return it to us for a refund or product replacement.

Additional Import fees/other Custom fees may apply and vary depending on which country you are from
My favorite acrylic paints.
I bought this set for myself after watching Feliks paint for a year or more on his platforms. I am a self-taught artist so I know the paint you use doesn't make your skills better. But I will say that the quality of the paint used can make a difference in how your work looks. I use the paints I purchased from Feliks on commissioned projects or ones I really want to turn out a specific way. These colors are very opaque, vibrant and smooth. They blend beautifully and a little goes a very long way. Beautiful set, quality acrylics. You won't be disappointed with your purchase!
Good product
Hello
Thank you for asking me to review your product - Acrylic paint set.
I find the paints to be very good and helpful when doing the painting course. The cost of the materials are competitive within the market.
However, the postage costs were as much as the product so unfortunately I shall not be purchasing anymore.
I really admire Feliks art and am thoroughly enjoying the course work.
Ottimo prodotto
Mi reputo più che soddisfatto dell'ordine
Sicuramente ne prenderò altri in futuro
Lo consiglio
Quality paints!
I love the smooth texture and vibrant colors of these paints. They are a pleasure to use and I appreciate they have never congealed or had clumps like other brands. I would definitely recommend color by Feliks paints!
Excellent choice of colors, high-quality product! Love it!