About Acrylic Paint Pens (Set of 3)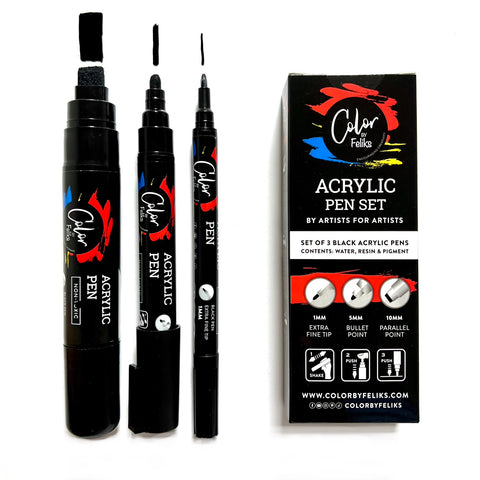 Feliks' favorite set of black acrylic paint pens is finally now available after months of testing and creating with this set in his own paintings!
It is an essential that he uses in both his abstract and landscape pieces.
Add this set of 3 acrylic paint pens to your painting tool box and discover a new dimension to your art.
Your set of 3 black acrylic paint pens includes:
-Large 10mm parallel point
 pen which is great for bigger canvases or to get a bold outline.
-Medium 5mm bullet point
pen which works great for both large or small canvases, depending on the design you are creating.
-Small 1mm extra fine tip
pen which is perfect for adding small details such as branches or thin outlines to your abstract work.

Additional Import fees/other Custom fees may apply and vary depending on which country you are from
Great pens!
They make some details so precise, and easier to create!
Excellent!!
I was extremely happy with my pen set. I do recommend reading the instructions first (as I know a lot of people don't, lol) or you get no paint to come out. They were an invaluable addition to my paints as I do have have any luck with using a detail brush (I"m 71 years old) and these pens help me to what I couldn't do before. Thank you Felix!
As expected
These paint pens work as smoothly as I'd hoped they would. I like the various sizes...and the price was great.
Acrylic pens
I love these pens. I love using them to line my paintings and have also used them for drawing limbs on my trees. Good flow and write easily.
I haven't used the pens to a large extent at this time. I am hoping they last awhile. I have bought pens from retail stores and they don't have a long life. I was disappointed, especially in their short life and the cost.
I hope these will last a long time.